Guide on How To Afford a Landed Property in Singapore
sevensgroup
November 09, 2022
---
Although most Singaporeans are acquainted with the procedure of purchasing a HDB apartment or condo, relatively few of us have actually owned landed property in Singapore. Then again, landed homes are home to just 5% of Singapore families.
For any of us who are lucky enough to be able to purchase a landed property in Singapore (or who are simply interested about the procedure), here is a comprehensive resource on affording and purchasing landed property in Singapore.
Types of landed houses in Singapore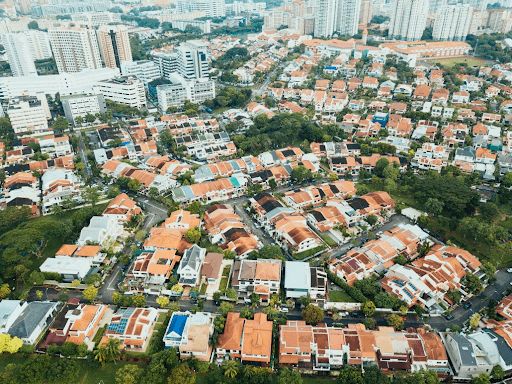 Before we get straight into the nitty gritty calculations, let's see if you are aware of the types of landed homes available in Singapore. 
In Singapore, there are four  basic categories of landed property: Good Class Bungalows (GCB), Bungalows (also known as Detached), Semi-Detached and Terrace houses.
A good class bungalow (GCB) is the pinnacle of Singapore properties and is the most prestigious and exclusive type of landed housing in Singapore. They are frequently classified individually owing to the distinguishing features, such as:
Being situated inside one of the 39 URA-designated GCB zones.

A minimum land requirement of 1,400 square metres (about 15,069 sq feet)

A minimum plot frontage of 18.5 metres

Cannot exceed two floors in height (excluding attic and basement)

Have a site maximum site coverage of 40%, leaving the remaining for greenery
A bungalow is a standalone landed dwelling with its own title. The property is ringed by land and does not share any shared walls with other properties, hence offering its owners more exclusivity and privacy. A bungalow nestled outside a GCB area has a minimum plot size of 400 sqm, a frontage of 10 metres and a maximum site coverage of 50%.
A semi-detached (also known as semi – d)  is one part of a set of two houses, each with a distinct land title and divided by a shared wall on one of the property's sides. There are two types of semi – ds, the side to side and the back to back. The former will require a minimum plot frontage of 8 metres while the latter requires a minimum frontage of 10 metres. Regardless of the type, all semi – ds are required to have a minimum land size of 200 square metres.
A terrace house is a dwelling with its own land title that is member of a succession of at least three buildings connected by shared walls. There are two types of terrace houses, Type 1 and Type 2. The difference between the two is the land size.  A Type 1 terrace house is the bigger among the two, with a minimum plot size of 150 square metres and a plot width of 6 metres. On the other hand, a Type 2 terrace house has a minimum plot size of 80 square metres and a minimum plot width of 6 metres.
A Type 1 corner terrace does share the same plot frontage and minimum plot size as a semi – d whereas a Type 2 corner terrace house has the same minimum plot size as an intermediate terrace house, but with a larger minimum plot width of 8 metres.
How much do these landed properties cost?
Below are some of the price ranges across the four different categories
Good Class Bungalows: $38M – $110M

Bungalows: $6.5M – $35M

Semi – Detached: $4M – $18M

Terraces (including corner): $2.4M – $12M

Affordability of landed properties in Singapore
As the numbers above show, the majority of individuals are unable to own a landed property. Being in land-scarce Singapore with limited supply, the prices of landed properties have proven to appreciate over time. In addition, the prices of landed properties do vary depending on the age, location and number of levels. 
In addition to the age, the location is another area of consideration. The Urban Redevelopment Authority (URA) has segregated Singapore's 28 districts into three distinct zones. Firstly, it will be the Core Central Region (CCR), namely districts 9, 10, 11 which also includes downtown Singapore. Being highly sought after due to its proximity to various amenities and well renowned education institutions, prices of landed properties here tend to command a huge premium. The second region will be The Rest of Central Region, also known as (RCR), is sandwiched between the CCR and the Outside Central Region (OCR) which primarily covers districts 3, 8, 12 and certain areas of districts, 1, 2, 4, 5, 6, 7, 13, 14, 15 and 20. Landed properties in these districts may still command a slight premium. However, the selling prices will not be as high compared to those in CCR. The last and more affordable region to acquire a property will be the Outside of Central Region (OCR), which is the least costly region to purchase a landed property.
Key consideration to take note of
If you wish to live in a landed property in Singapore, a reasonable sum to put down on your ideal home is not greater than you can comfortably buy. The government has done its share by enacting the MSR and TDSR, as well as a number of other cooling measures with the most recent one on 30th September 2022 . Under no conditions should you accumulate more debt than you can handle.
Staying in a property that you cannot afford may have a negative impact on your finances. If you push yourself to buy the most costly property, you're likely to have a busy lifestyle in which leaving your career or being ill might signal financial ruin for your household. That's how you might wind up with a lot of assets but little cash.
Consider renovation and furnishing costs
Regardless of whether you anticipate a major makeover, a modest one, or simply a few tweaks every now and then, a remodelling project is sure to drain a significant amount of money from your bank account. 
Even if you just buy high-quality items, remodelling isn't inexpensive. Sprucing up, replacing old flooring, piping, electrical wiring, upgrading kitchens and bathrooms and even decorating the property are all required. The furnishings and appliances are likewise pricey, so plan appropriately.
If you have strong credit, it may be worthwhile to pursue a remodelling loan. A typical credit is fixed at S$30,000 and has an annual interest rate of 3-5%. With a S$30,000 payment, this works out to S$888 per month. Likewise, do always do your own due diligence and weigh the pros and cons.
Don't forget about home insurance
If you own a house, you should get home insurance, but if you live in a reasonably secure nation with low chance of natural catastrophes, you may not understand how important it is until something awful happens. That is when you will be sorry for not having your home insured. Even though it is not required to get your house insurance, most landowners opt to do so since it protects their homes and valuables in the case of an incident or theft.
Discover Luxury Homes by Sevens Group
It really is no surprise that home values in Singapore are soaring. However, before you get overwhelmed by soaring real estate prices, you should have a clear vision of what you wish to accomplish with your property. You must consider how lengthy it will take you to be able to pay for house loan repayments in order to ensure that your monthly budgeting is not overburdened. 
Looking for your dream home? Contact our Developer Sales Team today! Your perfect home is just a click away.
---