6 Singapore Landed Property Jargons That You Should Know
sevensgroup
February 17, 2023
---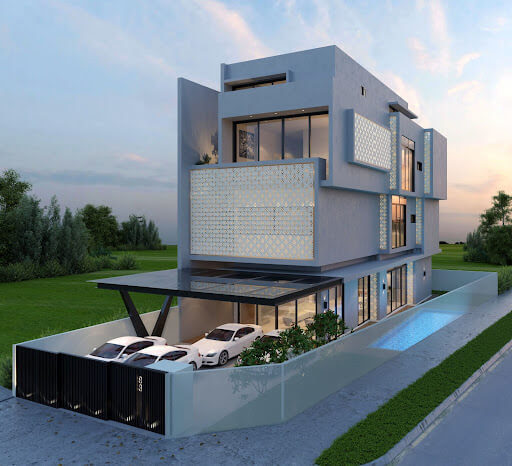 There are several acronyms used in real estate that frequently shoot past your mind. As a result, you often have to look them up right away on Google. Phrases like built-up space, plot ratio, and others that, to the casual listener, seem like a muddle when used in the context of land ownership will be used. This article will assist you in debunking what these terminologies represent and how they may assist you in better understanding real estate in Singapore.
Land area
Given Singapore's limited land supply and growing population, it should come as no surprise that there will be premiums attached to landed property, especially those that are "Certificate of Title" – meaning you own the title deed to the land.. This is because the land area you are on is the foundation from which you may determine your estimated built-up area. Land Area refers to the entire quantity of land you are buying would be the broad definition of land area, thus the greater it is, the more expensive it will be. This cost is usually determined by the per square foot (PSF) payable, ie $2,000 PSF on a 3,000 square foot of land will bring the land's value to $6 million
Built-up area 
The maximum number of floors that can be built is always discussed when discussing landed estates. However, there are limitations on how many floors you are permitted to create, which refers to the built-up area. Before you begin building your dream home,. the simplest method is to visit the URA web page and input the specific postal code of the landed property you are looking to acquire For example, our detached home at 574 Changi Road sits on a land area of 7,622 sqft and boasts a built-up area of 12,000 sqft. We have maximised the built-up area by building it into a 2-storey detached with a mezzanine and an attic, which is the maximum building height allotted, which is also reflected in the URA map service website shown below. 

Gross plot ratio (GPR)
The Gross Plot Ratio (GPR) tells you how intensively a piece of land may be developed. If the plot ratios of two parcels of land with almost the same average are diverse, their prices may vary, which might explain the disparity between a profitable solid investment and a loss.
If you look even more closely, you might see that there are minor variations in the plot ratio around Singapore, and they are influenced by the local street restrictions and the practical height limitations. For instance, because of the Paya Lebar airbase's airspace constraints, homes in the vicinity generally have modest construction heights. 
Gross floor area (GFA)
The term "gross floor area" (GFA) describes the entire covered floor area of a property and is measured between the centre line of party walls, which include the thickness of external walls. However, GFA does not comprise open spaces such as verandahs, the rooftop, the green spaces, or the parking spaces. You may ask "Why do you require this information?" Well, it is simple. The plot ratio is used by the government to regulate land use intensities in specific regions and is revised yearly in accordance with the URA Master Plan. If there are any revisions, this is how developers determine which property parcels are underutilized so they may redevelop them to realise its potential into larger developments.
The plot ratio would be multiplied by that of the site area in a straightforward computation to determine the GFA.
Site coverage 
As long as it is elevated over one meter from ground level when seen upwards, this phrase will be reserved only for bungalows (also known as detached houses). It is calculated based on the overall area of the property and the coverage of building elements. Below (Figure 1) is an illustration extracted from URA's website for convenient reference. The site coverage for detached houses vary depending if they are in one of the 39 gazetted GCB (Good Class Bungalow) Areas (Figure 2).
Figure 1.
Figure 2.

New Erection, Additions & Alterations (A&A) and Reconstruction
This portion may seem like a construction topic but do read on and you can thank us later.
The term new erection (before you start thinking otherwise), is more commonly known as rebuilding / redevelopment. This refers to when you are going to completely demolish your landed property, and build a new house. This is the most costly, but may be necessary for extremely old or uninhabitable houses. It might also be a solid investment decision e.g. if the current property doesn't take full advantage of the available land space. However, there are certain things to note – i.e. the surrendering of land for road / drain reserves and the addition of the mandatory household (aka bomb) shelter (which came into play after 1st May 1998). Don't worry about the latter as household shelters serve as additional storage space (hopefully not to ride out another world war).
Reconstruction means you are going to maintain the existing structure, with some possible changes. The requirements are more straightforward where the increase in Gross Floor Area (GFA) is slated to be 50% or more of the original, or if the replacement or removal of walls amounts to 50% and more of the original. It may also not be necessary to build a household shelter (although in most cases, it will still be required), so don't panic and go running frantically into your neighbours' homes when the war siren is aired.
Additions & Alterations, on the other hand, refer to renovations that don't affect the building's base or present construction. Some common A&A works include replacement of walls, replacement of the roof or addition of an attic. Before you get too excited, A&A has a stringent requirement, which is that you are not allowed to increase your total GFA by more than 50%. I.e if your current place has a built-up area of 2,000 square feet, your built-up area cannot exceed 3,000 square feet, post A&A works. 
Understanding these terminologies might be useful when examining real estate postings and speaking with agents since there are numerous things besides the amount of land to take into account when buying a landed home. You can perform your own homework, create better judgments for yourself, and comprehend your property better if you are well-informed.
Discover Luxury Homes Built By An Award-Winning Developer
Sevens Group is a leading real estate development company with a proven track record of more than 10 years in the industry with over 100 landed developments completed to date. Sevens Group is consistently committed and passionate to developing superior quality standard, modern, and state-of-the-art real estate projects.
Looking for your dream home? Contact our Developer Sales Team today and they will be happy to be of service. In the meantime, keep your eyes peeled for our next article.
---